COMMISSIONER COMMENDS LAWRENCE TOWNSHIP'S COMMITMENT TO EVs DURING DRIVE ELECTRIC WEEK EVENT
FOR IMMEDIATE RELEASE
September 28, 2023
Contact: Caryn Shinske (609) 984-1795
Lawrence Hajna (609) 292-2994
Vincent Grassi  (609) 984-1795
(23/P054) TRENTON – Environmental Protection Commissioner Shawn M. LaTourette today thanked Governor Phil Murphy for a $10 million boost in state funding to accelerate development of electric vehicle charging-station infrastructure in New Jersey, advancing the Administration's bold vehicle electrification and climate mitigation goals.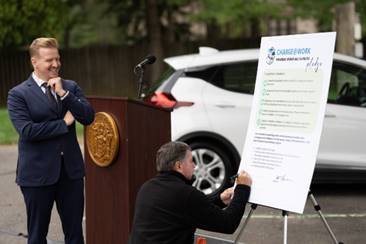 The DEP is using the money to address its EV charging station waitlist. Thus far the DEP has allocated about $8 million from this funding for workplace and multi-dwelling charging-station projects across the state.
The Commissioner discussed the funding boost during a National Drive Electric Week event in Lawrence Township. The township is adding chargers to its municipal complex for employee and public use, investing in an electric garbage truck for the Public Works Department, and is among the first communities in the country to sign the national Charge@Work pledge.
National Drive Electric Week, which began Friday, Sept. 22 and concludes Sunday, Oct. 1, educates the public about the many benefits of all-electric and plug-in hybrid vehicles. Raising awareness about electric vehicles is especially important in New Jersey, where emissions from gasoline- and diesel-powered vehicles are the largest source – approximately 37% — of the greenhouse gas emissions that cause climate change.
"As part of the Fiscal Year 2024 budget I signed in June, this additional funding represents nothing less than a game-changer for New Jerseyans," said Governor Murphy. "Thanks to our determined efforts to dramatically expand our state's electric vehicle charging infrastructure and incentive-based programs, my Administration is promoting consumer choice by making the transition to electric vehicles more accessible and affordable than ever. While helping to safeguard our communities from the intensifying impacts of the climate crisis, this transition will also put money back into the pockets of hardworking New Jersey families."
"Our climate is changing right before us. We must continue to act with the sense of urgency the climate crisis demands," Commissioner LaTourette said. "Governor Murphy and I are committed to moving forward decisively with the transition to an electrified transportation sector by providing the funding and the leadership that will result in a healthier, sustainable and more resilient future for New Jersey."
"Lawrence Township's actions and plans to do even more have helped move the state's climate mitigation goals forward," Commissioner LaTourette added. "Leadership like this is needed to support the Murphy Administration's ambitious goals to increase the number of electric vehicles on the road. Convenient and affordable charging at home and at the workplace is core to our overall charging ecosystem, since that's where the majority of charging will occur."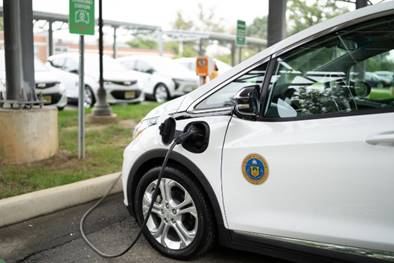 "I would like to applaud Lawrence Township for taking this important step to help achieve the State's EV goals," said NJBPU President Christine Guhl-Sadovy. "Supporting municipalities in their efforts to provide EV charging to residents is key to advancing our electric vehicle goals and achieving 100% clean energy. The Murphy Administration has developed and implemented several programs to encourage New Jerseyans to drive electric. The BPU is thrilled to partner with DEP and all our sister agencies to help ensure EV charging is accessible throughout New Jersey ."
The DEP's EV charging station waitlist includes over $8 million worth of applications for EV charging stations at workplaces, multi-unit dwellings and public places. Applications may be submitted through the DriveGreenNJ website.
To date, DEP's It Pay$ to Plug In program has awarded $14 million for 1,261 charging stations with 1,891 ports at 389 discrete locations throughout the State.  In addition, the State has a  sales tax exemption for EVs and multiple incentive programs.
Lawrence Township used funding from DEP's It Pay$ to Plug In program to install three Level 2 charging stations to support their five fleet electric vehicles while also making the chargers available for employees and residents. The Mercer County municipality has also committed to purchasing an electric garbage truck with a fast charger for their public works department. Moreover, the township is one of the first New Jersey municipalities to sign the Charge@Work pledge, further committing to accelerating the State's EV goals while developing their own transportation electrification plans.
"We're thrilled that Commissioner LaTourette has chosen to come to Lawrence Township to celebrate National Drive Electric Week," said Mayor John T. Ryan. "Lawrence is the place where nature smiles for 22 miles and we honor that slogan with our commitment to proactive environmental policies and green infrastructure every single day. Electric vehicles are good for the economy, the environment, and especially good for public health. With the robust support we continue to receive from partners like NJDEP and Commissioner LaTourette, I can confidently say that we're bringing a healthier and cleaner future to our residents! "
New Jersey's clean energy goals target a 50% emissions reduction by 2030 and 80% by 2050, and 100% clean energy by 2035.Building out charging infrastructure to ensure that EV drivers have robust options for powering up aligns with one of the seven key action areas in DEP's recently released Strategic Climate Action Plan. To achieve these targets, the DEP will monitor emissions reduction progress, promote electrification of buildings and facilities across state government, advance transportation decarbonization and zero-emission vehicle initiatives, and pursue regulatory reforms for generating and other industrial facilities that result in energy efficiencies and emission reductions.
Lawrence Township is among the first group of municipalities nationwide to participate in the Charge@Work program, which officially launches this fall and is part of a U.S. Department of Energy-funded program to expand workplace charging across the country.  CALSTART, Forth Mobility, and Equitable Mobility Powering Opportunities for Workplace Electrification Readiness (EMPOWER) are partnering to grow workplace EV charging, engage workplaces, community leaders and public officials.
The three organizations will connect employers with federal and local incentive programs, create site plans, secure cost estimates, identify the best technologies, measure worker interest in EVs, create a plug-share plan, and more. DEP encourages all employers to consider signing the Charge@Work pledgeand availing themselves of the free resources offered through the program partnership.
"The township is taking a step toward cleaner air, a healthier environment, and greater energy independence," said Jason Zimbler, Light-Duty Vehicle Director for the non-profit clean transportation accelerator CALSTART. "The township's commitment to its workers and the local community mean it will be well-positioned in the coming years to retain skilled workers who want and need the lower fueling and vehicle maintenance costs and other benefits that EVs deliver."
"We are pleased to see Lawrence Township set such a high standard and example of electric vehicle charging infrastructure, which is far too often a barrier for residents who wish to drive electric," said Anjuli Ramos-Busot, Director of the NJ Sierra Club. "As we transition away from internal combustion engines, there need to be more options to encourage folks to go electric and transition to a clean-vehicle future. The New Jersey Sierra Club is eager to see the work being done in Lawrence replicated across the state."
In addition, the DEP has expanded a pilot program that allows employees to charge their personally owned electric vehicles while at work.  Phase one of the pilot, which ran from February 2023 to August 2023, included the use of eight solar-power EV charging stations in the main parking lot at the DEP's Trenton headquarters. The DEP is now adding seven hard-wired charging stations to the Document Control Center on Carroll Street, near DEP headquarters.
For more information on DEP's drive green efforts, visit www.drivegreen.nj.gov
For more information on DEP's climate mitigation, resilience, equity and science efforts, visit NJDEP| Climate Change | Home
Follow Commissioner LaTourette on X, formerly known as Twitter, and Instagram @shawnlatur and follow the DEP on X @NewJerseyDEP, Facebook @newjerseydep, Instagram @nj.dep and LinkedIn @newjerseydep